What's new at the library?
We have recently updated the 5 computers available for public to use. Patrons and guests are allowed an hour each day. However, anyone working on a project where extra time may be required can make arrangements with the library staff. These computers are available for anyone to use unless they have fines or missing items. Patrons with a library card that is not in good standing will not be allowed access. Guest pass are available at the front desk. Anyone under the age of 18 will need a signed permission slip before being allowed on the computers.
These computers include touch screen capability and have a variety of programs installed for you to use. Programs include Microsoft Word, Excel and all other programs available with Microsoft Office.
These high speed mac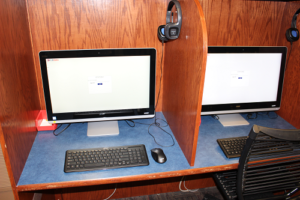 hine's include a variety of internet browsers. They have multiple ports for you to use with your CDs, flash drives or SD cards. Printing is also available for a small charge of $.10 per page for black and white and $.50 per page for color.
Stop by and see what is new at the Valentine Public Library!
---
---