Did you know you can……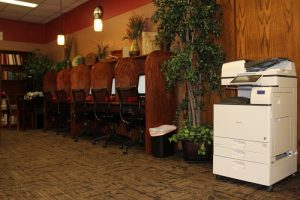 Many services are available at the Valentine Public Library.

We are able to print from multiple smart phones, tablets and laptops. Just ask a librarian for assistance and we will get you set up with our air printer.
Did you know you are able to have copies made, send or receive a fax, or print to one of our public printers for a small fee. We also have a scanner available for public to use at no charge.
Prices for copies, faxing and print outs

Copies-black & white copies are $.25 per page
Send a Fax-$2.00 1st Page and $.25 for each additional page
Receive a Fax-$.25 per page. Fax number is 402-376-3160.
Printing Black and White-$.10 each page
Printing Color-$.50 each page
Scan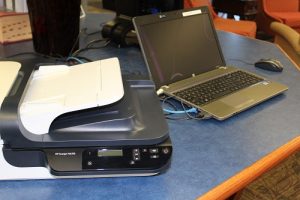 ner-No cost to use
Please ask at the front desk for assistance.
Notary Service
Our Library Director, Anne is also a notary. Please visit with her for any notary services you may need.
Other Services available

Five Public Computers with high broadband speed. These have a variety of programs installed, have webcams, , CD/DVD, built-in SD card slots to accommodate SD memory cards, HDMI, USB ports etc and headphones. These computer also have touchscreen technology for users. Library Patrons with a current card in good standing may login with their card number. Guest passes are available for travelers or visitors. One hour per day is the limit allowed per user. Computer passes are not available for anyone with fines or missing items on their card.
Test Proctoring services are available. We also have four laptops available for you to use for this purpose. Please visit with library staff for additional information. There is not a charge for this service.
Meeting Room may be rented for $50/day or $25 for half day. High speed Wifi is available in the meeting room along with access to a media center including a TV with HDMI port, DVD player, and it also has a projector screen. Please call the library for availability.
Daily and weekly newspapers along with dozens of magazines are available for the public to read. Back issues of magazines are allowed to be checked out for one week with a limit of 3 magazines at one time per library card. There is a variety of magazines available for children as well as adults.
Microfilm Reader for accessing newspapers from Cherry County dating back to 1883. This program allows you to print or save to a flash drive any news items you may need for future research.
---
---