Online Snare-Cyber Smart project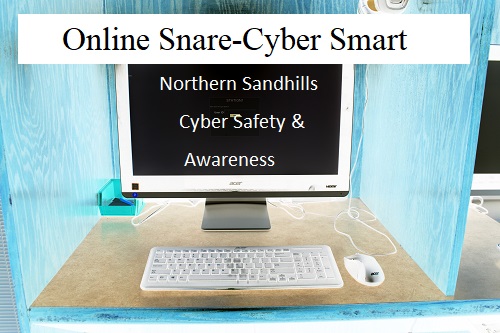 The Online Snare-Cyber Smart project is a collaborative effort with Valentine Police Department, Cherry County Sheriff's Office and Valentine Public Library to increase awareness & the sharing of information regarding Cyber Security and Awareness to decrease victimization.
Our goal is to educate and inform Northern Sandhills area residents about ways to keep to stay protected when using smart phones, using social media platforms and while using the internet. We have many goals and more information will be coming soon. Please like and follow our Facebook pages to stay connected to upcoming events and further information.
Here's a link to the Online Snare-Cyber Smart Facebook page https://www.facebook.com/OnlineSnareCyberSmart or
follow us on Instagram at https://www.instagram.com/onlinesnare_cybersmart/
This project developed by Valentine Public Library was a recent recipient of the Libraries Transforming Communities grant opportunity from the American Library Association.
"Libraries Transforming Communities: Focus on Small and Rural Libraries is an initiative of the American Library Association (ALA) in collaboration with the Association for Rural & Small Libraries (ARSL)."
#LibrariesTransform #onlinesnarecybersmart #vplcares
---
---