NEW 1000B4K READERS!
NEW 1000B4K READERS! Congratulations to Trenton and Ryker Ruggles!!!!! They are our newest bookworms to complete reading 1000 books before starting Kindergarten challenge. They were delighted to be able to show off their new books bags and check out books at the library. They are the sons of Brandi and Blake Ruggles.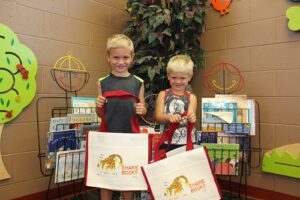 Congratulations on reaching this milestone of reading 1000 books before starting kindergarten!! Can you believe it, this is number 86 & 87? WOWZA!!!! That's 87,000 books read by our bookworms and all before they enter Kindergarten!!!! Way to go!!!
We cannot say it enough, the commitment made by the families of these little ones, establishes a love of reading in their children for the rest of their lives. We are so thrilled to have families like these who make this a priority and commit
to complete this challenge. Please join us in welcoming Trenton and Ryker
to the Valentine Public Library family!
---
---