NEW 1000B4K READERS!
We welcome the newest 1000B4K Bookworm, Rowan Edwards to the Valentine Public Library!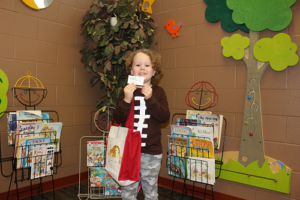 Rowan is the son of Brandon and Cheyenne Edwards. Rowan is the 75th child to complete this challenge and receive a free library card from the Valentine Public Library.
He had a blast picking out his prizes and had fun filling his new canvas book bag with books he checked out by himself on his brand new card.
We cannot say it enough, we are so thrilled to have families like these who make a commitment to complete this challenge of 1000 Books before Kindergarten. We are grateful that families and caregivers encourage reading to their children. Their commitment continues to establish a love of books & reading in their children. Please join me in welcoming Rowan to the Valentine Public Library family!
---
---