Free Nebraska Humanities program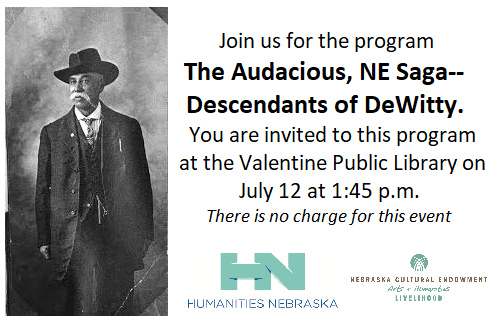 Join us for this free program on July 12 at 1:45 p.m. to learn more about DeWitty, later known as Audacious, which was the largest and longest-lasting African American settlement in rural Nebraska. The settlers, including former slaves who had fled to Canada before the Civil War and their descendants, began to arrive in 1906-07, attracted by the 1904 Kinkaid Act's offer of 640 acres of free land in the Sandhills. Actual descendants of DeWitty re-enact stories of the settlement and its people, accompanied by historic photographs.
Click here for a flyer for this free event https://valentinelibrary.org/wp-content/uploads/2019/06/201906240916_0001.jpg
For more information about this program please call Denise Harders from Central Plains Library System at 402-462-1975.
---
---