NEW 1000B4K READERS!
Double the excitement for the Coleman Family and welcome to the Valentine Public Library!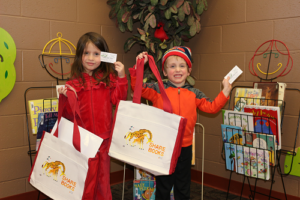 Both Charlotte and Cormac Coleman have completed their 1000B4K Challenges!!! Charlotte and Cormac are the children of Chad and Danielle Coleman. They make #69 and #70. Whoop! Whoop! They were super pumped to be able to check out books on their very own library cards and to use their new book bags. We cannot say it enough but we are thrilled that families continue to encourage reading in their homes. We are so appreciative and thankful for these families who make a commitment to complete this challenge of 1000 Books before Kindergarten. It establishes a love of books & reading in their children. Please join me in welcoming Charlotte and Cormac to the Valentine Public Library family!  
Danielle Coleman
---
---