NEW 1000B4K READERS!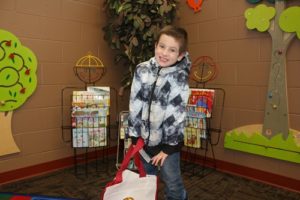 We had a very excited and happy young man complete his 1000B4K today.
Congratulations
to Jaydn Danielski and his parents, Jay and Tami Danielski. He makes #67. As you can see, he was very excited to receive his library card and book bag! We are thankful and grateful for families who encourage reading in their home. The commitment to complete this challenge establishes a love of books & reading in their children. We have many families who are dedicated and continue to strive to meet this reading challenge of 1000 books before kindergarten. Please join me in welcoming Jaydn to the Valentine Public Library family!
---
---