NEW 1000B4K READERS!
Wahoo! Whoop, whoop! Nevaeh Hotz is our newest 1000B4K reader. Nevaeh is the daug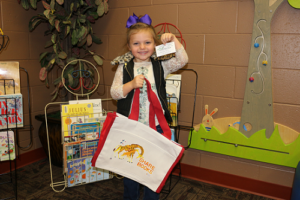 hter of Paul and Nicole Hotz. She was delighted with her library card and new bag she received. She also maxed out her card with books allowed on her first day! This, of course, made the librarians extremely pleased! We love it when you check out lots of books!! We are so grateful for families who instill a love of books & reading in their children and continue to strive to meet this reading challenge of 1000 books before kindergarten. She makes #65. Please join us in welcoming her to the library.
---
---